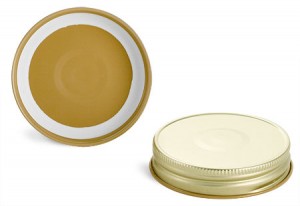 RECOMMENDED SOURCES FOR GUA SHA TOOLS
Use Metal Plastisol Lined caps as one-use disposable Gua sha instrument.
[the plastisol lining helps to stabilize the cap when applying pressured strokes of Gua sha.]
The caps can be disinfected/sterilized as described (handout link below) or thrown away after one use.
Listed below are a US and UK company that carry caps with the lip gauge that is recommended for the most comfortable Gua sha application. The stock rows in bold are the recommended sizes. I am sure there are many other companies that supply these metal caps. Compare size etc with these recommendations. If you have questions send email to arya@guasha.com. Do not use baby food jar lids (called lug lid) and do not use lids with a button on the top (makes an annoying click which then varies applied pressure.) See cap/ruler image below to help your sense of measure. CONTACT EITHER COMPANY FOR FREE SAMPLES  [I have removed ULINE as an option. The company has supported the political campaign of a pedophile in Alabama]
SKS BOTTLE COMPANY
www.sks-bottle.com/  
Metal Caps, Gold Metal Plastisol Lined Caps (sks-bottle.com) [you have to cut and paste the link at left for it to work]
These gold caps have a great gauge and are not painted. They do not have a 48 mm cap but 53 and 58 mm work well.
SOLD IN CASES OR BAGS:
Stock #                  Size                     Cap Code     Case Pk                        Price/Case            Price/cap
| | | | | | |
| --- | --- | --- | --- | --- | --- |
| 6011-11B   |  53 mm | P | 1900/case | $669.00 | $0.352 ea |
| 6011-11   |  53 mm | P | 144/bag | $76.09 | $0.43 ea |
| | | | | | |
| | | |   | | |
REMEMBER NO  LIDS with BUTTONS
---
UK SUPPLIER
www.freemanharding.co.uk  Freeman & Harding Ltd Units
58R3 gold metal lids (freemanharding.co.uk) (with recommendation as Gua sha treatment lid on their page)
Tel: 01322 351315 Fax: 01322 351 361
58mm product name 58R3 Gold Metal Honey Jar Lids.  A bag of 144 x 58mm cost £18.50
Contact company for postage within and out of UK. Be sure to order the metal and not the plastid lids.
Gua sha does not need an expensive tool of jade, horn, bone, or stone. In fact while those tools are lovely to look at, they are often too blunt and cause discomfort to the patient.
In addition, if tools are re-used on different people, whether family member or patients, they must be properly cleaned and decontaminated. There are simple steps [Gua sha Safety Guidelines] to decontaminate tools and the fact that these steps are necessary should not discourage practitioners from using Gua sha in practice.
Another option is to use a tool once and dispose of it. This can be done by applying Gua sha with a simple metal cap with a rounded lip. The lids from baby food jars do NOT work for this purpose. See image below for a proper cap. Detailed information on tools and lubricants can be found in the Gua sha text and DVD. We will post a source to order caps soon.